AAA ROOFING: SERVICES
COMMERCIAL ROOF COATINGS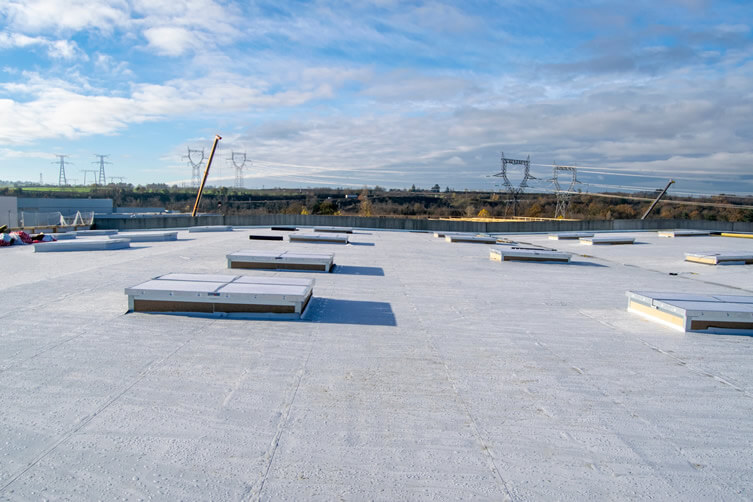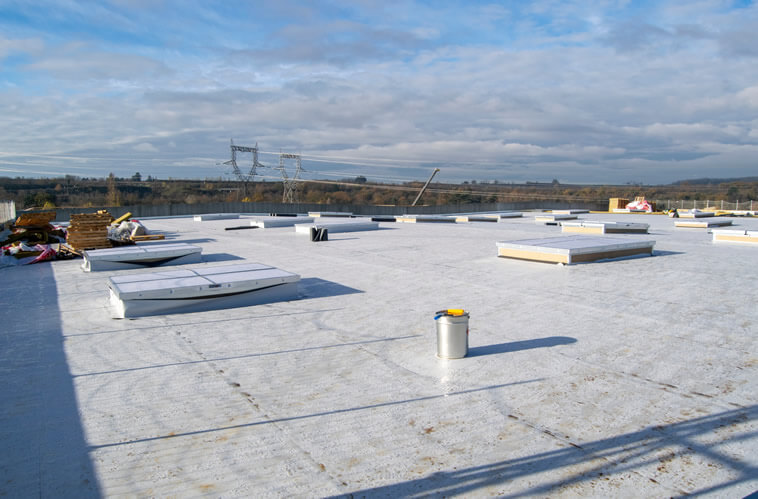 SERVING NAPERVILLE, AURORA, PLAINFIELD, OSWEGO, YORKVILLE, BATAVIA, GENEVA, ST. CHARLES, ELGIN IL & SURROUNDING AREAS
COMMERCIAL ROOF COATINGS: WHAT YOU NEED TO KNOW

Commercial roof coatings are designed to offer an additional protective layer to any commercial roof's surface. They're applied in fluid form across the membrane and dry into a protective layer that works to help safeguard any commercial property from the likes of leaks, UV damage from the sun and pooling water. We'll get into more of the benefits later in this post, but in addition to offering an extra layer of protection from the outside elements, roof coatings also help extend a roof's longevity and can even help with energy savings.
Types of Roof Coatings
There are various different types of roof coatings – and the best one for a property largely depends on factors such as roof type and climate. Here's a look at some of the most popular types of flat roof coatings:
Elastomeric: Known for their effectiveness and affordability, these moisture-resistant roof coatings are able to be applied to a range of roof types, including PVC, wood, modified bitumen, concrete and metal. Elastomeric coatings are easily applied and can be rolled on at any time of the year.
Acrylic: Acrylic coatings are among the most popular type of roof coating thanks to their low cost and durability. Acrylic coatings come in various types of colors, including a white reflective coating to reflect UV rays. These coatings are commonly applied in two coats for well-rounded protection.
Solvent-Based Asphalt: Also known as "cutback coatings," these coatings are commonly rolled on. They're available in three finishes, which include asphalt black, aluminum and reflective.
Solvent-Based Silicone: Solvent-based silicone sealants are biodegradable and offer a rubber-like finish. They come in various colors and are known for providing exceptional moisture resistance compared to the other types of roof coatings. What's more, silicone coatings can be applied to just about any type of commercial roof. We recommend the silicone based sealant. It's highly resistant, cost effective, and long lasting. Our team uses Gaco Silicone Roof Coating.
Asphalt Emulsion: The biggest advantage of this water-based coating is how easy it is to apply. It's easily applied to just about any type of commercial roof in a fraction of the time other coatings would take.
RE-ROOFING VS. ROOF COATINGS: WHAT'S THE DIFFERENCE
The most significant difference between re-roofing and applying roof coatings is that one consists of removing and replacing any existing roofing material, while the other is applied to an existing roof to help offer enhanced protection. The application of roof coatings tends to cost up to 75 percent less than a new roof, and when applied correctly and at the appropriate intervals, roof coatings can help extend the lifetime of the roof – sometimes up to 20 years or more.
KEY BENEFITS OF ROOF COATINGS
There are a multitude of benefits that come with the application of roof coatings:
Roof coatings can extend a commercial roof's lifespan, potentially for up to 20 years or more. Coatings can help property owners maximize their return on investment.
Coatings offer enhanced protection from the elements and help protect the property.
They can help improve energy efficiency and reduce a property's utility bills, especially if reflective coatings are applied.
Coatings can help reduce roof repair and maintenance costs.
CONTACT US TODAY
For more information on roof coatings, contact AAA Roofing Company today. 630-844-2553
Whether you need a roof for your new home, repairs on an existing roof, gutter or siding, we are here to help! We've served countless homeowners and we are always happy to work with both new and existing customers. The safety and value of your property should always be a priority.  Our roofing, siding, gutter and window services ensure your home is always in top shape. Fill out the form or call the number below to talk to one of our customer service representatives.