AAA ROOFING: ROOF DAMAGE
Assess YOur HAIL DAMAGE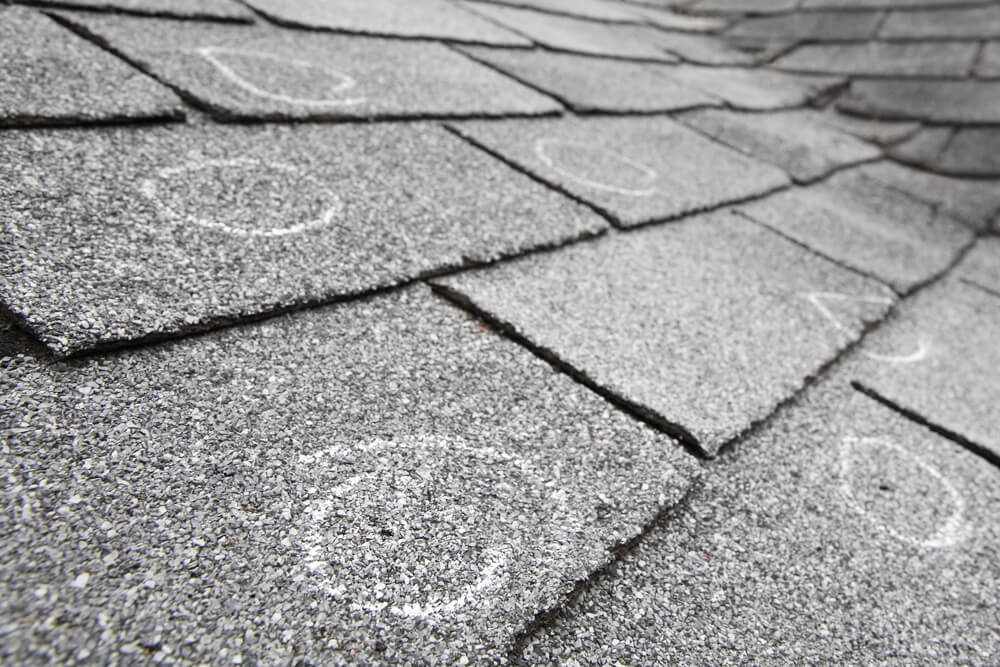 SERVING NAPERVILLE, AURORA, PLAINFIELD, OSWEGO, YORKVILLE, BATAVIA, GENEVA, ST. CHARLES, ELGIN IL & SURROUNDING AREAS
HAIL DAMAGE
Do you know how to check for hail damage to your roof and what to do if you find damage? While many homeowners are aware of what large hail can do to their cars, fewer think about what hail can do to their roofs. The truth of the matter is that hail can dent, crack and cause granule loss to roofs. It can dent gutters and downspouts, and it can even crack skylights. Therefore, if your area experiences a severe thunderstorm with large hail, it's important to get your roof inspected after the storm. In this article, we'll explain hail damage, how it affects your roof, and what to do if you find hail damage.
Property Hazards Associated With Severe Thunderstorms and Hail
When severe thunderstorms roll through your area, they can produce winds of more than 100 miles per hour, which is similar to the winds produced by an EF1 tornado. Winds this strong can drive hail into your roof, magnifying the damage. Severe thunderstorms can also produce hail that is an inch or greater in diameter, which is similar to the size of a golf ball. When this hail falls onto your roof, it can cause dents, dings, and cracks.
Signs of Hail Damage to Your Roof
Once the severe thunderstorm with hail has passed, you'll want to go outside and inspect your roof. For damage. The safest way to do this is with a pair of binoculars from the ground. Of course, if you see dings and dents in your siding or gutters and downspouts, there's a good chance that your roof is also damaged.
Cracked or broken clay or concrete tiles

Dented or bruised shingles

Dents in flashing or vents

Granule loss on asphalt shingles

Missing shingles

Splits in wood shingles and shakes

Tears in asphalt shingles
Roofing Impact Classifications
The best defense against hail damage is buying the right roof. Roofing materials, like shingles, metal, clay, and concrete all come with impact classifications that range from 1 to 4. These tests for the impact classifications are carried out using steel balls that are dropped from a certain height.
Class 1

 – A 1.25-inch steel ball is dropped from a height of 12 feet, and the shingle does not crack.

Class 2

 – A 1.5-inch steel ball is dropped from a height of 15, and the shingle doesn't crack.

Class 3

 – A 1.75-inch steel ball is dropped from a height of 17 feet, and the roofing material doesn't crack.

Class 4

 – A 2-inch steel ball is dropped from a height of 20 feet, and the roofing material doesn't crack.
If you want the maximum hail damage protection for your roof, we recommend always choosing class 4-rated roofing materials.
What to Do if You Find Hail Damage on Your Roof
If you find hail damage on your roof, it's best to get your roof inspected and repaired as soon as possible. A qualified roofing contractor, like AAA Roofing in Sugar Grove, can come out to your home, inspect your roof, provide an estimate for the repairs and repair the damage.
If you have homeowners insurance, your insurance policy may pay for weather-related damage. To start the process of getting your hail damage paid for by your insurance company, it's best to call your agent, check your policy, and file a claim.
If you don't have homeowners insurance or weather-related damage isn't covered on your policy, we do have financing options available.
To get your roof inspected and repaired after a severe thunderstorm, give us a call at 630-844-2553.
Whether you need a roof for your new home, repairs on an existing roof, gutter or siding, we are here to help! We've served countless homeowners and we are always happy to work with both new and existing customers. The safety and value of your property should always be a priority.  Our roofing, siding, gutter and window services ensure your home is always in top shape. Fill out the form or call the number below to talk to one of our customer service representatives.